NEW Parallel Dual Oil Cooler Kit $1095
Introducing a new version of our dual oil cooler kits for the 3rd Gen RX-7 for the ultimate in oil cooing, now in parallel setup instead of in-series like the R1 and R2 models, and our other dual oil cooler kit. Primarily for race cars that see extreme conditions, this kit is perfectly suitable for street performance cars as well. Instead of having the oil flow through one cooler and then other oil cooler before returning to the engine; the oil flow is split and distributed to each oil cooler separately before it's return. The advantage being increased cooling efficiency by each oil cooler.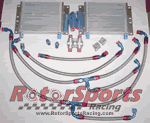 click for larger image
Competition Dual Oil Cooler Kit for FD3S (In Series)


click for larger image
Kits now come with polished aluminum oil coolers (not black)
The 3rd generation RX-7 R1 and R2 models came stock with dual oil coolers, as opposed to the single oil cooler found in other FD's. There is a reason for this. The stock 3rd gen oil cooler is barely adequate at best. Rotary engines depend upon oil cooling for 40-50% of it's engine cooling. All RX-7's benefit from improved oil cooler systems, especially under competitive driving conditions. Benefits are lower oil temperatures AND lowered water temperatures since the water cooling system doesn't have to reduce engine temperatures as much. The turbo(s) are oil cooled as well as the engine, so benefits apply to them as well. This is an often overlooked reliability upgrade that will extend the life of your engine and turbos. This kit is substantially better than the stock oil coolers.
Motor oil is the blood lifeline of your rotary engine. Oil cooling is as important as an intercooler is for air intake temperatures and a good radiator is for water temperatures. It's part of the overall design of a performance package. Consider Idemitsu full synthetic oil as well. Synthetics generally produce lower oil temperatures than mineral based oil. Idemitsu is specially formulated for the rotary engine.
Our dual oil cooler kit for the FD includes two Fluidyne 20-row 50mm plate-fin competition oil coolers, a thermostat bypass valve, Goodridge -10 steel-braided lines and fittings, mounting brackets, crush washers, and instructions. All lines are pre-assembled and ready for installation. Removal of the nose/spoiler is required.
Call for questions, to order a kit, or to schedule an installation on your FD3S RX-7. Sonic cleaning stock or used oil coolers is also available upon request.
2nd gen FC3S Mazdaspeed oil coolers also available. Call for details.
| | |
| --- | --- |
| FD3S RX-7 | |
| In Series Kit: $950* | Installation Labor: 5hr $375 |
| Parallel Kit: $1095* | |
* tax and shipping extra when applicable
Jobber pricing available for qualified vendors